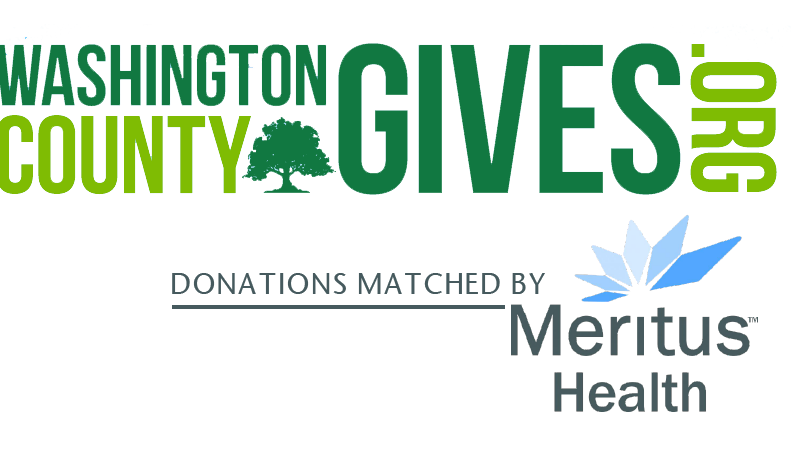 A Record-Setting Day of Giving for The Arc-WC
The 9th Annual Washington County Gives was a record-setting event for The Arc of Washington County. This local day of giving is an annual 24-hour online fundraiser hosted by the Community Foundation of Washington County. The Arc-WC is one of the many local nonprofits who participated in raising funds.
Meritus Health partnered with The Arc-WC as our gift match sponsor for the 2021 Day of Giving. Community members came together to donate $5,865 – an 87% increase from last year's event! As the world begins to reopen from COVID, these funds will help adults and children with intellectual / developmental disabilities commute to work, go on field trips, enjoy new activities, and more.
The generosity of individuals and local businesses – particularly Meritus Health – raised a total of $8,365 to support adults and children with intellectual / developmental disabilities.
A big thanks to everyone who donated to this year's event. Your support helps The Arc-WC break down barriers and create more integrated lifestyles for everyone in the community.
—–
About Meritus Health
Meritus Health, western Maryland's largest health care provider, is located at the crossroads of western Maryland, southern Pennsylvania and the eastern panhandle of West Virginia. With nearly 3,000 employees, 500 medical staff members and 240 volunteers, Meritus Health serves about 200,000 residents of the tristate region. Meritus Medical Center, the flagship facility of the health system, is a Magnet® Recognized and Joint Commission accredited hospital with more than 300 beds. Meritus Medical Center has officially become a teaching hospital, serving as a clinical training site for the Meritus Family Medicine Residency Program, the only residency program of its kind in the tristate region, as well as for more than 1,000 nursing and allied health students annually. Meritus Health also includes Meritus Medical Group, a network of 20 medical practices with more than 100 providers; Meritus Home Health; and Equipped for Life, a medical equipment company. Meritus Health is a 25% owner of Maryland Physicians Care, a 215,000 Medicaid member health plan. With a long-standing history of caring for the community, Meritus Health relentlessly pursues excellence to improve the health status of the region.
About The Arc of Washington County
As a statewide leader providing comprehensive supports for adults and children with intellectual or developmental disabilities, The Arc of Washington County works to empower all to achieve meaningful lives. Supports include residential, day & outreach, and employment services. Programs are designed with a person-centered approach – a guided process for learning how someone wants to live at home, at work, or in the community and developing a plan to make that happen.
Visit www.arcwc-md.org/events for upcoming fundraisers and other ways you can support The Arc-WC.